Kayak, canoe, trailer and stand-up paddleboard sales at Up A Creek in Central City, IA.                                                                                                                                              Fully Authorized Torqeedo dealer                                                                                                                                                                25% off sale going on now on Kayaks from Wilderness Systems and Perception       
A kayak or trailer may be gotten from us without ever stepping into the store, thru the phone at 319-438-6737 or internet (we can do a CC over phone). Kayaks are actually starting to come in!!
Up A Creek carries these Popular Brands:
Torqeedo (electric motors)
RAM (access.)
Boardworks (SUP & surfboards)
Dagger (kayaks)
Harmony (access.)
Perception (kayaks)
Wilderness Systems ( kayaks)
Bending Branches (paddles)
Aqua-bound (paddles)
Stohlquist (lifejackets, PFD's)
Gecko (Dry Bags + Towels)
NRS (access.)
Malone (Car Racks & Access. & Trailers)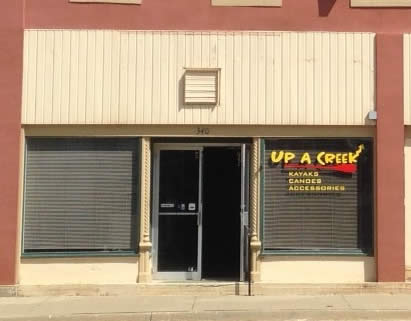 Come here to get a kayak or accessories such as PFD's(lifejackets), trailers, dry bags, paddles, 303 Protectant, bilge pumps, etc....
Or if you are interested in kayaking in Eastern Iowa, we can help with some great ideas!( all Malone trailers you can order here by calling, and they can be drop shipped to your house for just $50!).
Please call 319-438-6737 for more specifics.
 HOURS:
(Hours until Friday Dec. 22, after that we will be appointment only Jan. and Feb./ 2024.....after that will have regular hours)
Sun: by appointment only
Mon: by appointment only
Tues: by appointment only
Wed: by appointment only
Thurs: 12:00-6:00
Fri: 12:00-6:00
Sat: 12:00-6:00